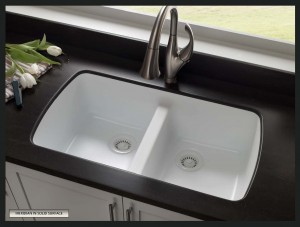 It's one of the more common questions that drive visitors to SolidSurface.com and it's one of the primary reasons we have become a leader in providing so many variations of solid surface products.
Sure, you can buy a finished bathroom, kitchen countertop, shower surround, or other Corian®-related project, from thousands of qualified professionals or even most of the big box stores.  But the question often arises, "Where can I get the raw sheet goods to either do my own projects, or purchase material inexpensively and have a professional build and install it for me?"  Or, if you're a professional, you've probably been on a search for a place to get all your material in one-stop-shopping fashion and at discounted prices.
So Where DO You Buy Sheet Material?
Qualified professionals often purchase material through certified distributors. Each distributor typically represents one or more manufacturer's brands.  Teaming with a local distributor is a great way to go if that's an option in your area.
Here at SolidSurface.com, we provide yet another layer of convenience. We uniquely offer multiple full product lines of sheet goods, as well as a wide variety of discontinued and overstock material in full and partial sheets, from leading manufacturers.  Our powerful search tools enable you to filter all material by brand, color, pattern, size, price, and more.  Additional product offerings include color-matched adhesives, abrasives, tooling and sinks.
As an added bonus, SolidSurface.com provides online educational resources such as our Solid Surface 101, Working with Solid Surface and Countertop Fundamentals series.  We also publish a blog with content-rich information including industry news, customer and fabricator profiles, how-to articles, company announcements and much more.
SolidSurface.com is also host to ProFinder, a resource for our customers and visitors—such as architects, designers, or homeowners—to locate local fabrication professionals across the country.  We are big proponents of the "Go Local" movement!
So, even if you don't want to take on a project yourself (which is always a rewarding experience), we certainly encourage you to use SolidSurface.com to simplify and streamline your endeavor. Using our advanced search tools to locate the perfect material for your project and ProFinder to find a fabrication professional in your area will help bring your vision to life!