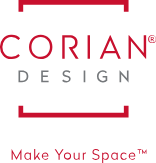 August of 2017 marked the launch of the new Corian® Design — Make Your Space™ brand introduction. The DuPont Corian® Brand unveiled a whole new look and a whole new way to express and inspire design within its brand. With marketing focused on a new generation of consumers, Corian® Design has found a way to celebrate the role that surfaces play in the realm of design innovation and aesthetics to enable the ultimate in design inspiration.
Fast forward to the 2019 Kitchen and Bath Industry Show (KBIS). Here, Corian® Design unveiled the largest and boldest aesthetics introduction ever in an unparalleled display of novel colors and design possibilities. Trend-setting displays showcased new products, materials and textures, as well as advances in illumination for bathing areas, all to the delight of designers and attendees alike.
Corian® Design derives its inspiration from assorted realms, such as that found in nature, or translucent stone, or from industrial and mid-century modern designs. The new innovations in material technology allow customers to make their space uniquely personal.
Highlights from the KBIS Show
New Colors — A large format preview of the largest aesthetic introduction of Corian® Solid Surface offerings. Five new collections (Aggregate, Terrazzo, Linear, Nuwood and Onyx) present customers with 15 enticing, new solid surface colors.
M. R. Walls — Among the many uses for Corian® Solid Surface are sculptured walls. Los Angeles based artist, Mario Romano, takes advantage of the properties of Corian® solid surface sheets as he reimagines walls inspired by nature. The beauty of these sculpted walls is breathtaking (visit the video link).
Corian® Espresso Maker — The new espresso coffee appliance created by AnZa provides a streamlined user experience. An extension of the Corian® solid surface countertop, the espresso coffee maker is sculpted from Corian® Solid Surface into a dramatic new look for a perfectly pulled espresso coffee shot. Learn more here
Corian® Moodboard Maker — Want a little help with your designer eye? A next-level design tool — the Corian® Design Moodboard Maker — will provide a useful and fun design experience. Select a style, personalize with your own patterns and photos, and share your moodboard. The seemingly unending ways that design, colors and dimensions can come together will keep you transfixed as you explore the unlimited options provided by this unique and inspiring design tool. Play with the MoodBoard Maker in your quest to "Make Your Space™" unique to YOU!