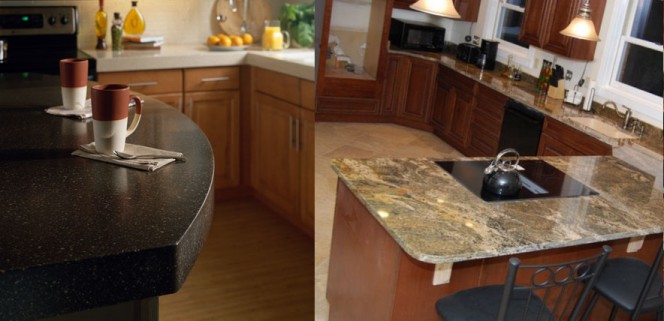 Return on Investment
Granite is currently a popular countertop material. As such, you will receive a higher price on the sale of your home in the current market if you have high quality granite kitchen countertops. If you're not planning to sell anytime soon, then a return on investment may not be as important as cost and durability or how it enhances and enlivens your life.
The Winner—Granite, as long as it remains "popular" in the current market.
Cost
Live it up for less! You can purchase extremely attractive, lower cost countertops made with either Corian®* or Granite. Alternatively, you can also spend a small fortune on either to get the latest color and pattern. If you really want that to go all out and cost is not a concern, you can even create an extra special top out of a piece of Granite that contains rare fossils.
When if comes down to general cost comparisons, installed prices (per square foot) for Corian® vary from $30 to $130 and $35 to $225 for Granite.
The Winner—Corian®
Hygiene: Do you prepare food in your kitchen?
In commercial kitchens, any material that comes in contact with food must be NSF/ANSI 51 (National Sanitation Foundation – Food Equipment Materials) certified. Corian® is NSF/ANSI 51 certified since it is non-porous and has non-porous seams (that are invisible.) As a result, Corian® surface does not support the growth of bacteria. On the other hand, Granite does not meet this NSF/ANSI 51 standard, as it is porous and seams within the top can trap bacteria.
The Winner –Corian®
Aesthetically Pleasing
Granite has hundreds of color and pattern options due to its nature-driven pallet. The available selection is so expansive that it's highly likely there's an aesthetically pleasing option perfect for you.
Corian® also has over a hundred manmade colors and patterns, some of which mimic nature. Unlike granite however, a range of solid colors are also available. In fact, if you want a solid color to match something precisely, you can send a color sample to DuPont™ and they will custom make sheets for you in that exact color.
The Winner—Both! Go with Granite if colors and patterns designed by nature are your thing. Alternatively, go with Corian® if colors beyond nature excite you. An added Corian® bonus is that it can be custom made to match any color.
Upkeep
Granite needs to be sealed yearly, at a minimum. Corian®, however, never needs sealer or any liquid finish.
When it comes to cleaning, with Granite there is always that nagging concern that if a spill is not cleaned immediately, it will seep through the sealer and into the pores of the material. With Corian®, virtually any stain—including black permanent marker—can be wiped away (even the next day) with Comet® and a wet sponge.
The Winner—Corian®
Restorability and Durability
When it comes to heat resistance, you can't place a hot pan from the range/stove on Corian®. Conversely, a pan from the range/stove can safely be placed on Granite. Neither Corian® nor Granite can withstand placing a hot pan out of the oven on it. These extreme heat situations can leave a scorched spot on the surface of the Corian® or in the sealer on the granite.
The good news is, if you accidentally scorch your Corian® top, you can always sand away the spot. Unfortunately, this is not the case with Granite, as the scorched sealant can permanently seep into its porous surface. So, be safe and use a trivet!
It's never advisable to use your Corian® or Granite countertop as a cutting board. Always use a separate cutting board whenever possible. If you do end up scratching the surface of your Corian® countertop, the cuts can be removed by sanding them down. The appearance of cut marks in Granite can be made less visible by adding more sealant, epoxy scratch repair, or using a permanent marking pen.  
The Winner—Corian®
Ease of Fabrication/Installation
If you are experienced at working with wood, you can build your countertop—including sinks, faucets and 1-1/2" thick contoured edges—using Corian® and your woodworking tools. Working with Corian® is basically like working with hardwood.
If you're adept at stone cutting, you can use diamond-edged tools to create your countertop. Start by purchasing one or more pre-cut, fixed-length blank Granite tops with finished edges. Then, use your diamond-edged tools to cut the holes for the sink and faucets. Another alternative is to fashion the top out of Granite tiles.
The Winner—Both, if you are handy!
Design and Artistic Potential
Granite is extremely flat and rigid material. Therefore, creating tops with flowing curves is not an option. Corian®, on the other hand, can be shaped into virtually any configuration by heating and forming it into the desired shape. This process is called thermoforming.
Another process, called dye sublimation, allows you to embed text and images into the surface of Corian®. This process heats the Corian® to open the pores along with a vacuum that deposits the dye into the surface. When it cools, it is no longer porous and the dye is permanently fixed just below the surface.
The Winner—Corian®  
Natural vs. Manmade vs. Renewable
There is no question about it—Granite is "natural" and it will last a long time. This is especially the case if the sealant successfully prevents the passage of grease, red wine or any other stain-inducing substance through to the Granite surface below. If stains do get deposited into the pores of the Granite, there is little that can be done except to replace the countertop.
Corian® is manmade, and when in need of a facelift, it can be resurfaced in your kitchen to the same "like new" condition as the day it was installed. To accomplish this, use the same sanding steps that were utilized when it was installed. Since the color and pattern are continuous throughout the material, you can give your Corian® countertop a sanding facelift every 10 to 15 years, as needed.
Winner—Both. Choose Granite if "natural" is your preference and Corian® if "renewable" is your preference.
Total "Wins": Corian® = 4, Granite = 1, Both = 3.
 * DuPont™ Corian® is one of several brands of solid surface, all of which share similar characteristics and are typically used interchangeably. Other major brands include LG™ HI-MACS®, Samsung™ Staron®, Wilsonart™ Solid Surface (formerly Gibraltar®), Formica™ Solid Surface, Hanwha™  Hanex®, Aristech Acrylics™  Avonite®, Meganite™, and Mystera™, to name a few.